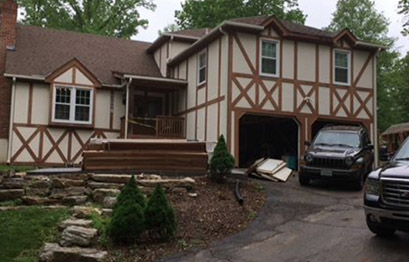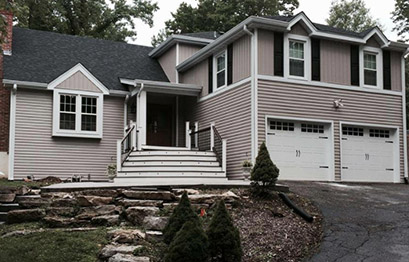 Siding
A building's exterior is first thing a visitor sees and the first line of defense against harsh weather conditions. At SNS Contracting, we understand this and strive to provide the best looking and performing exterior solutions for your home or business.
When inclement weather damages your siding, it is critical that it is repaired fast. Failure to do so can lead to further and more serious exterior damage, which can then lead to damage inside your home as well. Our siding services can get you the results you want, no matter if you are looking for a simple repair job t or replace damaged side panels, or if you are looking to do an entire exterior remodel to give your home or business a fresh new look. Professional exterior services not only make your home or business look great, but they also have a great return on your investment by adding value to your building.
When considering different siding options, the possibilities are endless. That's why we only carry quality brands like Royal Building Products, CertainTeed, James Hardie, LP SmartSide, and Quality Edge. These are brands you can count on to keep your home looking great year after year. From wood and composite, to fiber cement and vinyl, we have the products to cover any preference and budget.
Soffit and Fascia
When it comes to improving exteriors, there is more than just siding panels. Soffit and fascia installation are also crucial to giving your home the aesthetic and protection you want. Soffits are a similar to traditional siding, but are installed on the underside of your roof such as rafters and overhangs. Not only do Soffits look great, but they also help your energy efficiency by improving ventilation.
Fascias are another important part of any home or business. A fascia is a flat strip that wraps around the roof directly below the rooftop. These can be used to further protect your building's exterior as well as increase energy efficiency. The most efficient option is when a soffit and fascia are used together on a building to optimize protection and energy savings.
Gutters
No residential or commercial building's exterior is complete without a professionally installed gutter system to help control the flow of roof runoff. SNS Contracting is proud to offer professional installation of all the latest and most innovative gutter products in the industry. Whether you are in the market for seamless gutters, gutter guards, leaf protection, or gutter screens, we have you covered.
Seamless gutter systems have grown in popularity in recent years due to their unique design. This "seamless" design almost completely eliminates leaks and there are no seals to weaken over time like traditional gutters. Seamless gutters can also have a more uniform visual appeal as they are formed from a single sheet of metal which avoid prominent seams showing. Gutter guards are another important part of a gutter system. As each year's seasons progress, leaves, flower pedals, small branches and other objects land on your roof and funnel into your gutters. Eventually this can cause blockage and prevent proper water flow, which leads to gutters being unable to do their job and even overflowing. Properly installed gutter guards can keep your gutters running at their optimum level much longer before any sort of cleaning is required.